NWA Quality Analyst®
Stability studies and shelf-life prediction
NWA Stability Analytics™ (add-on module) delivers the statistical process control (SPC) analysis, charting, and reporting required for routine product-lot stability studies and shelf-life prediction as described in the FDA/ICH guidelines.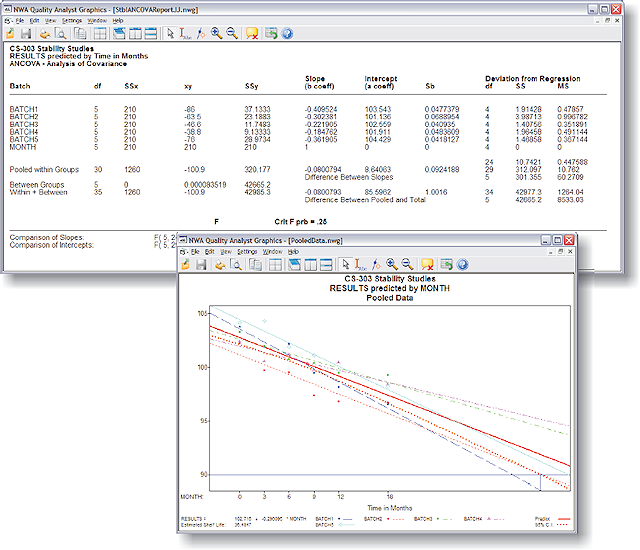 This SPC software module lets Life Sciences users perform routine stability analysis using NWA Quality Analyst®, the standard for manufacturing-process and laboratory-method SPC.
NWA Quality Analyst's database connectivity and ease-of-use combine with LIMS or other shelf-life databases to create an integrated system for analyzing stability studies that performs tasks that often require multiple applications, users, and data transfers. Built-in report automation and available Web-based reporting services increase the accessibility and timeliness of information. The result is a system that is more consistent, efficient, and easier to validate and manage.
NWA Stability Analytics Functionality
Meets FDA/ICH guidelines for stability analysis using ANCOVA
Connects directly to LIMS and other study-management systems
Simplifies configuration and maintenance
Standardizes workflow and reporting
Provides comprehensive stability statistics and charting

ANCOVA statistics
Tests for poolability
Predictions using:

Pooled data
Pooled slope
Worst case

Out-of-trend detection
Residuals analysis