NWA Quality Analyst®
Complete SPC analytics, charting and reporting
NWA Quality Analyst supplies the most comprehensive and accessible suites of SPC charting and analytics functions. With the chart configuration capability you can set up virtually any control chart configuration.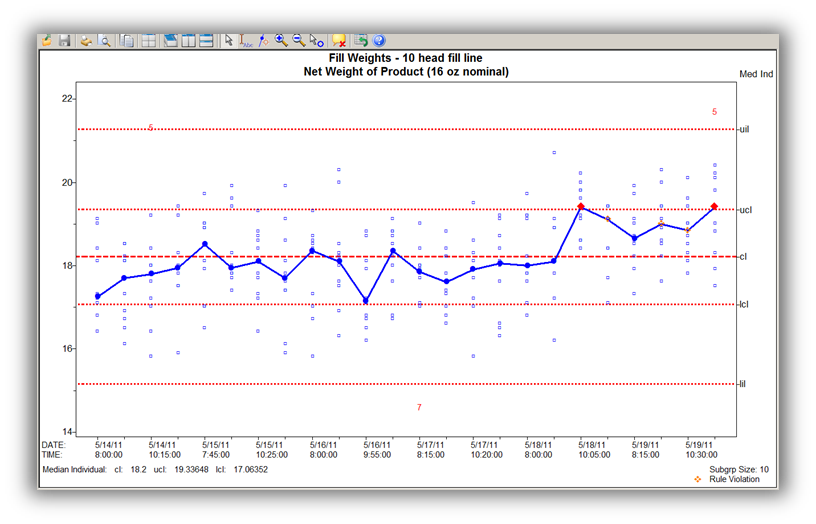 As a leading SPC software solution, NWA Quality Analyst offers unmatched flexibility and versatility when setting up charts for specific analytical needs. User preferences can be set using clear, logical, consistent dialogs. While default settings produce the most commonly accepted form, charts can be quickly customized. You can define any chart to meet internal, customer, or regulatory requirements.
NWA Quality Analyst's operational power is available directly from the spreadsheet-like user interface, providing: Access to all configuration, charting, and analytical functions from a single screen. A suite of advanced data management tools. A robust data structure allowing all charting and analysis from a single data set. User-defined calculated variables (including a visual equation builder), multi-key data sorting, and multi-criteria data filtering. Pop-up windows displaying descriptive characteristics and rule violations for any point on a chart.
Automating the charting process is easy with NWA Quality Analyst. In addition to automatically creating SPC charts, users can select data variables and chart types, specify filter criteria, or even enter new data without running the full NWA Quality Analyst product. While most users will use NWA Quality Analyst's built-in Automation Wizard, advanced users can create and modify automation scripts with a text editor.
NWA Quality Analyst integrates with all major manufacturing information systems to serve as the SPC analysis and charting component of an integrated quality information system. The combination of database connectivity and synchronization, automation, and XML output provides the tools needed to automatically collect, analyze, and report on data from virtually any source. NWA Quality Analyst's SPC analysis can be launched directly from desktop icons or from other applications. Database connection is automatic and users can be prompted to guide workflows and modify queries.
You can design any number of exception reports for each Data Set and provide a wide range of reports on SPC, specification, and pattern-rule violations.

The SPC chart associated with the exception is generated with the click of a button. In addition, you can combine multiple Exception Reports in NWA Quality Analyst automation to produce a single report that scans quality data across a process or facility.
Predefined Assignable Cause and Corrective Action text and ad hoc comments can be assigned to data points on any SPC chart. Multiple Assignable Cause/Corrective Action report formats plus Pareto analysis help support quality initiatives and compliance programs such as Six Sigma, ISO, and CAPA.
NWA builds specialized modules which provide complete solutions to industry or application specific needs. These include: NWA MvSPC™ delivers fully integrated multivariate model building and SPC charting. NWA Stability Analytics™ delivers the statistical analysis, charting and reporting required for routine product-lot stability studies as described in FDA/ICH guidelines.