NWA Quality Analyst®
Embedded real-time SPC for HMI/SCADA systems
NWA SPCx is an online, real-time, SPC tool that embeds within any InTouch* or FactoryTalk View SE* application. It provides operators, engineers, and managers with timely monitoring of their critical product and process parameters.
NWA SPCx makes it easy to incorporate ActiveX-based real-time SPC into Wonderware InTouch and Rockwell FactoryTalk View SE applications with the most advanced on-line SPC product available.
NWA SPCx Functionality
Connects directly to InTouch or FactoryTalk View SE tags for real-time SPC charting and analysis
Multiple SPC charts may be simultaneously displayed in a single window, and updated in real time
Users can select predefined or ad hoc Assignable Cause and Corrective Action for any data point
Annotations can be added directly to the charts
Status screen displays visual alarms for specifications and SPC violations
Simple and intuitive point-and-click interface with no scripting required
NWA SPCx Designer
Deploying on-line SPC applications is made easier with NWA SPCx Designer to create product and process variables and associate them with InTouch or FactoryTalk View SE tags.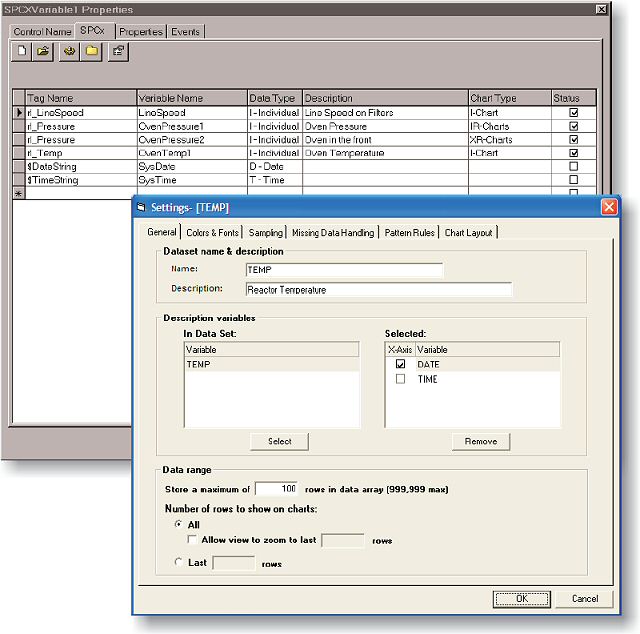 Configure different views of the data including status screens, control charts, and exception reports.
Point-and-click set-up and configuration. No scripting required, even for advanced features.
Connects directly to InTouch or FactoryTalk View SE tags with time- or event-based sampling.
Attach to any ODBC-compliant database.
Low cost of ownership with streamlined configuration and maintenance.
 InTouch is a copyright of Invensys and FactoryTalk View SE is a copyright of Rockwell Automation