The Gallo Glass plant in Modesto California is one of world's largest bottle plants. Fourteen glass lines make more than 100 types of bottles in sizes and shapes ranging from 187 ml single serving bottles to 4 liter jugs. The plant is the sole supplier to the E & J Gallo Winery and produces over 2 million bottles a day.
Total Process Monitoring and Analysis
An operation of this scale requires a high performance process quality management system that can monitor critical production parameters, manage the process data, and deliver the appropriate role specific SPC and manufacturing analytics reports to all operational and managerial staff. The Gallo Glass information technology and manufacturing management decided to build their own optimized Shop Floor Information System (SFIS) based on commercial software packages for rapid and cost effective implementation, and minimal long term maintenance overhead. They chose GE Fanuc iFIX for user interface configuration, MS SQL (updated from Oracle) for database management, and Northwest Analytical Quality Software for SPC and manufacturing analytics reporting. NWA QAx ActiveX components were embedded in the iFIX/Oracle system. The process engineering staff use NWA Quality Analyst for continuous process improvement.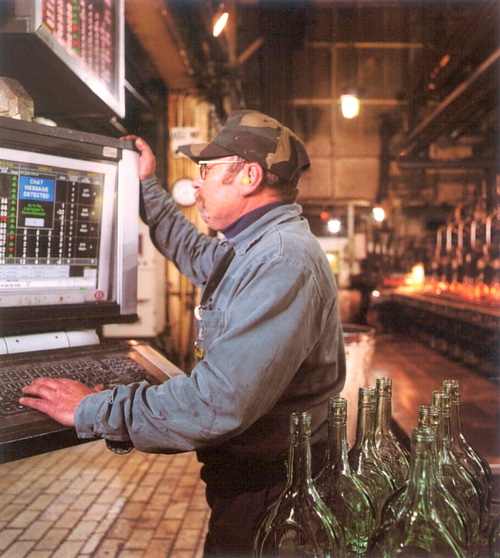 The Gallo Glass SFIS monitors all steps of the bottle manufacturing process ranging from initial batch compounding through furnace conditions and final bottle molding operations. The embedded QAx modules deliver function specific reporting to the plant operators and to management. The total system brings together data from all sources and converts it into useful actionable information for both daily operation and Continuous Process Improvement.
The Right Report to the Right User
When Gallo Glass started SPC in the 80's using paper and calculators it was difficult to see the larger scale process management issues. The implementation of NWA Quality Analyst in the 90's reduced the data manipulation overhead for quality engineering and enabled in-depth process monitoring and management. Literally, a day's work was reduced to a few seconds and led to the next level of performance.
Gallo Glass then decided to build the SFIS to develop new possibilities for continuous process improvement and to manage larger scale enterprise productivity issues. The database tracks over 1600 variables from the forming machines all of which are accessible through the QAx analysis and reporting. The SFIS design provides a uniform data source, uses consistent analytical and reporting tools, and delivers the specific process information each individual needs to best do their job.
Operators receive the real time data specific to their section of the line so they can make the right decisions for their operation.
Engineering, production, and technical support managers receive process evaluation and process improvement reports at the beginning and end of each bottle run. Bottle runs are typically one to two weeks with over 250 change-outs per year.
Mold design engineers and the mold shop manager use the SFIS to improve equipment process performance and reduce production defects.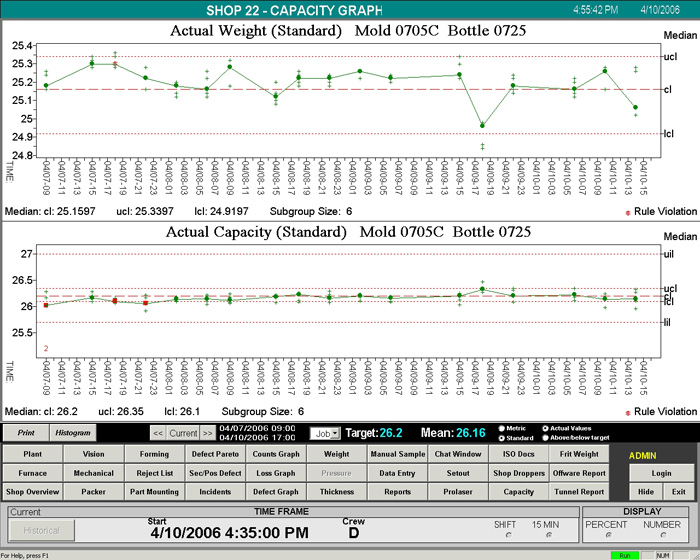 In addition to standard quality parameters, the SFIS can integrate business process and financial information to deliver Key Performance Indicators (KPIs) such as Percent Pack (the number of bottles successfully produced for every 100 attempts) to both operators and managers. This makes an information rich manufacturing system that delivers better production decisions and more profits.
As a result, plant operations save $5 million/year through improved quality. Specifically, production has increased by 5%, defects have been reduced by 25%, and plant downtime has been reduced by 25%. Training time has been decreased and operator performance improved.
The SFIS enables Gallo's CPI and Six Sigma efforts and makes it possible for SPC to evolve from a local quality department tool to a component of Manufacturing Analytics for enterprise wide process management. According to John Gallo, VP Gallo Glass, "The vision is one of an information-centric management culture.  Ultimately we foresee use of the new technology as fundamental in our journey toward Lean/Six Sigma manufacturing."
Cover Image

Info Center Collateral Types
Collateral Type
Case Study