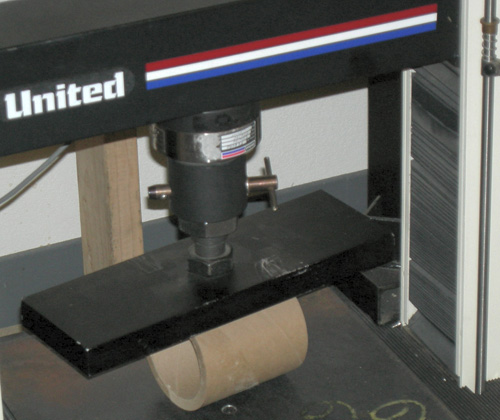 The Longview, WA facility of Newark Paperboard Products produces paperboard tubes that are used for applications such as paper mill winder cores, tubes used in a variety of packaging applications and as concrete forms. Newark Paperboard Products is the third-largest tube and core supplier in North America. The plant is ISO 9001 certified and Statistical Process Control (SPC) use is specified in their ISO registration.
Measure – Analyze – Improve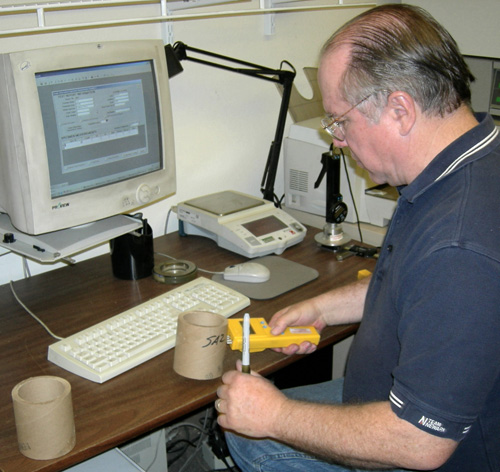 Tube performance characteristics such as wall strength and crush resistance are critical to successful customer applications. Dimensional measurements such as outer core diameter are routinely taken in the lab by digital caliper along with moisture content. Unit weight is periodically checked to make sure production values are in line with customer specifications.
The Longview laboratory uses NWA Quality Analyst to analyze and chart data collected from United Testing Machines Compression testing equipment for crush tests on the paperboard tubes. The control charts and histograms are used both in-house and for supply chain reporting. The lab inserts control charts and histograms into Microsoft Word files, which are emailed to customers to provide the quality deliverables they require with their shipments or for any customer request regarding QC data.
The ongoing use of SPC in continuous process improvement (CPI) has resulted in better raw material performance and less waste. "We can now sleep well," says Rodger Wilson, QC Manager. "We originally had large variation in some of our processes, but by consistently applying CPI, we now have stable process that dependably produce product that meets all the specs."
The lab also uses NWA Quality Analyst on special projects and pilot runs for new product development. The measurement data is charted and analyzed to refine the new product.
Quality In – Quality Out
Newark receives certificates of analysis with incoming lots of raw materials. The data is stored in spreadsheets and NWA Quality Analyst is used to monitor trends in raw materials and provide corrective action information if the material exhibits substandard performance. The ODBC capability makes connecting to Excel spreadsheets and Access databases quite simple. Additionally, the ability to set up calculated fields in NWA Quality Analyst saves time by avoiding having to cut and paste data into existing spreadsheets with the formulas, or entering the formulas each time a new set of data is acquired.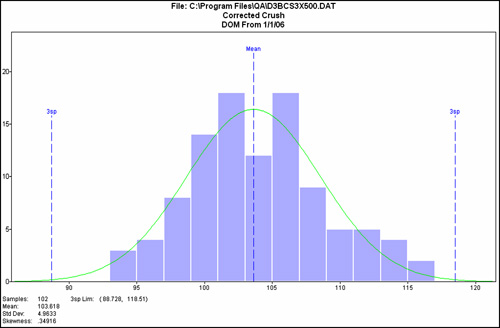 The lab does limited vendor certification and works with the mill division when developing paperboard specifications. NWA Quality Analyst is used to provide feedback to the paper mills on raw material and product performance variation.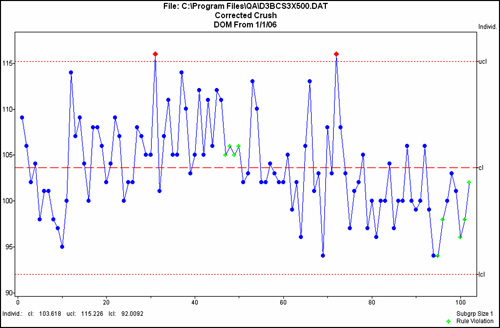 The lab transfers the test data into an ACCESS database. They create two tables and set up a join view that cleanly presents only the data they want. There was rudimentary charting capability in the test instrument controller, but the lab uses NWA Quality Analyst for the more appropriate and useful charting capability. Wilson says, "With NWA Quality Analyst it is easy to set different filters and get the data I want. The graphics are so much better than anyone else's – clean, not choppy, with automatic limit calculation. It's much simpler than other SPC products, and with the automation features, it's possible to set up it up for the floor staff."
Cover Image

Info Center Collateral Types
Collateral Type
Case Study