Portland, OR – (May 29, 2013) – Northwest Analytics, a global supplier of manufacturing intelligence solutions for process industries, today announced the expanded availability of delivery, implementation and related services through a leading system integrator, Stone Technologies, for the newly-released next generation enterprise manufacturing solution, NWA Focus EMI®.
The partnership will allow Northwest Analytics and Stone Technologies to offer increased levels of services related to NWA Focus EMI to existing and new customers of both companies. Those services also enhance NWA's ability to easily scale its implementation and process-improvement services by utilizing Stone's system-integration expertise, deep knowledge of manufacturing processes and operations, and experience working across multiple generations of plant technologies from multiple vendors.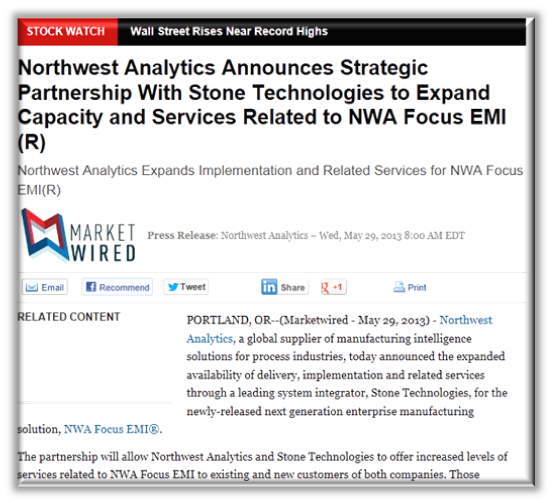 Northwest Analytics President Bob Ward noted, "In advance of the product's introduction, NWA was seeing strong demand from manufacturers for NWA Focus EMI due to the solution's unique abilities to deliver complete data integration with a ubiquitous analytics layer for real-time process visibility to reduce costs, increase yields and improve product quality.
"That value, combined with the average of 1-3 week implementations and high scalability, meant NWA would quickly need to expand its services capacity to meet the increasing demand. Stone enables NWA to do so while allowing Northwest Analytics to offer our existing customers a wider range of related high-value services."
Stone Principal Eric Schaefer says, "By partnering with Northwest Analytics, Stone continues in its quest to bring the most effective and innovative solutions to our clients' needs for enterprise manufacturing intelligence."
Launched last week, NWA Focus EMI (www.nwasoft/focus-emi) provides complete data source integration, and real-time process analytics and visibility with capabilities that enable users to accumulate and disseminate knowledge across the entire enterprise, and collaborate across geographically dispersed manufacturing operations to pinpoint and quickly resolve issues and share best practices.
"NWA Focus EMI connects easily and directly to all existing plant data sources. Because of that ability, we recognized the importance of partnering with an integrator whose experience working in complex data environments equaled that of our own," stated NWA Marketing Vice President Peter Guilfoyle. "Stone Technology's knowledge of plant data technologies, from Historians and LIMS to MES and quality systems, no matter the provider, is a key success factor when it comes to delivering implementation services related to NWA Focus EMI."
Schaefer expects that "the demand to be high for a NWA Focus EMI solution with its ability to integrate directly with existing plant databases and Stone's bench strength and depth in delivery services. The partnership will greatly benefit both of our client-bases by providing a truly integrated solution and the services to integrate it successfully."
The Dow Chemical Company and other leading manufacturing companies have already implemented NWA Focus EMI and are continuing the process of rolling it out across their enterprises. The NWA Focus EMI full system payback averages two to six months.
NWA Focus EMI is available immediately by contacting Northwest Analytics directly at focus-emi@nwasoft.com.
About Northwest Analytics
Northwest Analytics is a leading provider of manufacturing intelligence, SPC and quality information software solutions for manufacturers. NWA delivers manufacturing-intelligence visibility, analytics, plant-floor quality data collection, management and monitoring, SPC charting, enterprise reporting, and real-time, embedded SPC to 35% of the Forbes 1000 manufacturers and more than 5,000 manufacturing customers worldwide. NWA has focused exclusively on manufacturing for more than 25 years, providing a powerful, easy-to-use suite of EMI, MI and SPC solutions that emphasize enterprise-wide integration, analysis and visibility. NWA is the partner-of-choice when it comes to helping its customers increase operating efficiencies and throughput, while delivering a fast and effective ROI. For more information, visit http://www.nwasoft.com/.
About Stone Technologies
Stone Technologies, Inc. is a national systems integration company that focuses on project delivery. Stone provides industrial automation services, including process control and manufacturing execution system (MES) design, software development, and commissioning. Stone is recognized as a leader in complex process and business information applications. Stone is the "go to" integrator for many Fortune 500 companies. Stone specializes in Business Intelligence, OEE and downtime, batch management, WIP tracking, production and energy web based reporting. For more information, visit http://www.stonetek.com/.
Northwest Analytics Contact:
Peter Guilfoyle
V.P. Marketing
pguilfoyle@nwasoft.com
503-224-7727 x 113
Stone Technologies Contact:
Dan Engelhard
Director of Business Development & Marketing
dengelhard@stonetek.com
314-630-4592
Editorial Contact:
Valerie Harding
Ripple Effect Communications
valerie@rippleeffectpr.com
617-536-8887
Undefined