Manufacturing-intelligence solutions for world-class manufacturers
Northwest Analytics leads the industry in delivering manufacturing analytics that enables more effective plant process management and improvement for manufacturing enterprises and their supply chains. For over 25 years Northwest Analytics has delivered powerful, easy-to-use process analytics and manufacturing intelligence software with an emphasis on enterprise-wide integration, analysis and visibility.
Manufacturing Intelligence across the Enterprise
Northwest Analytics provides a single source for a complete range of real-time manufacturing intelligence solutions and services to drive process improvement from the plant to the corporate office.
• NWA Focus EMI® - Accelerated EMI with real-time process analytics and visibility with enterprise-wide knowledge base and collaboration
• NWA Quality Information System™ - Affordable quality automation from data collection to charts
• NWA Quality Analyst® - SPC charting, analysis and reporting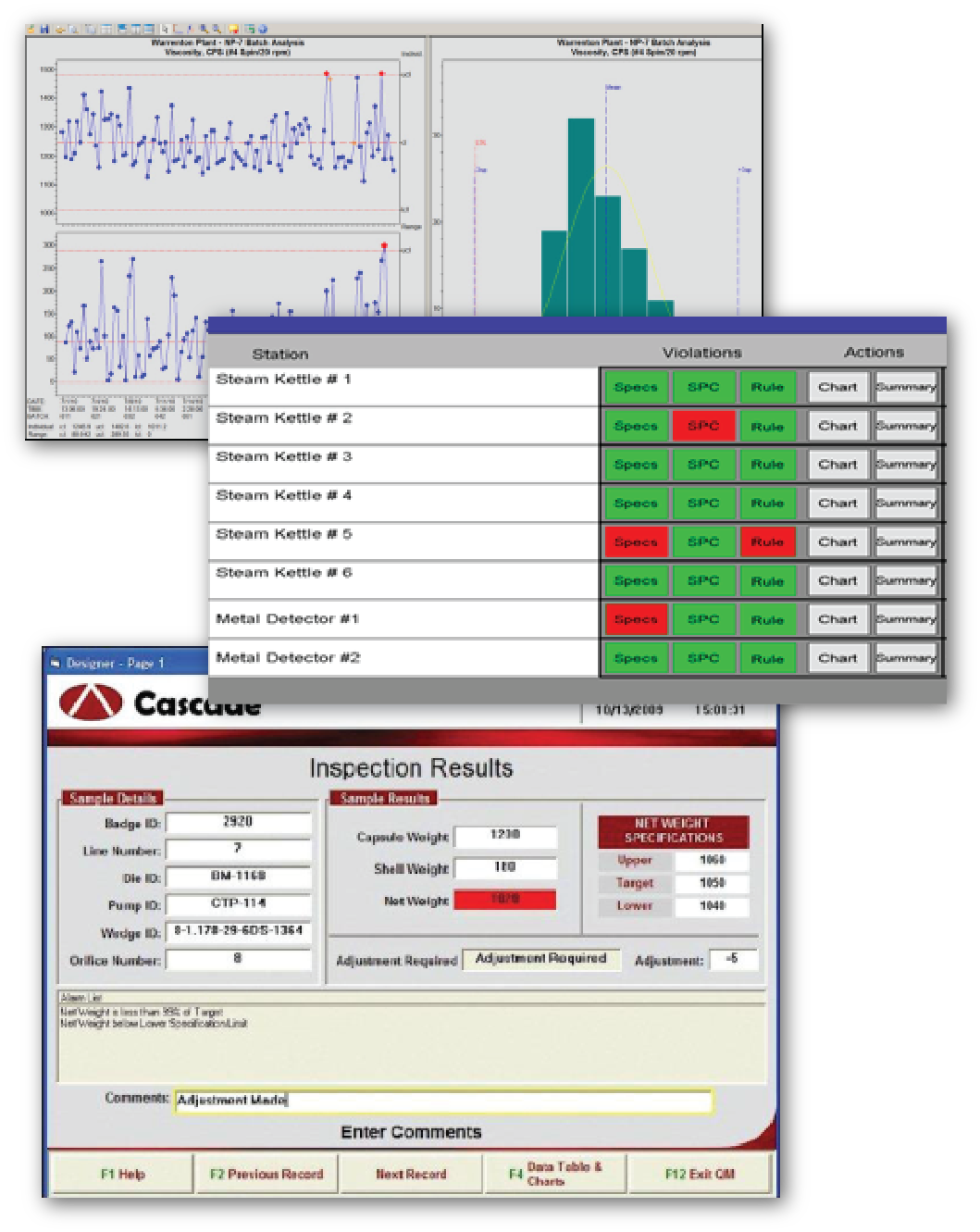 NWA software is known for its rich user interface which can be easily configured to fit each task, reduce training time and increase company-wide utilization, with user-level operation and reporting configuration to reduce IT overhead and impact and keep systems synced with real-world needs.
Ranging from the single desktop to worldwide networks, Northwest Analytics' easy to scale, standards-based soft­ware leverages existing infrastructure investment to make the difference in efficiency and profitability for their users.
NWA Focus EMI
All EMI solutions are not created equal.  The next generation of EMI, NWA Focus EMI goes far beyond basic EMI to focus the right people, on the right issues, with the right information and solutions at the right time.
Northwest Analytics picks up where simple EMI systems leave off, efficiently combining data, analytics, and real-time visibility - from existing data sources - with two, key accelerating modules, KnowledgeBase™ and Collaboration™, for a new level of manufacturing intelligence for intelligent manufacturing.  The NWA Focus EMI Core platform delivers real-time process analytics and role-specific visualization services from existing manufacturing data sources through direct connectivity without the need for data duplication or redundant data storage.  This delivers the visibility and intelligence required by personnel - from operators to managers to vice presidents - to recognize problems quickly and make fast, informed decisions to impact operations immediately.
NWA Focus EMI then accelerates those benefits with KnowledgeBase and Collaboration, capturing and proliferating best practices across the entire enterprise to resolve an organizer's most pressing operational issues through manufacturing-focused collaboration.
NWA Quality Information System
Whether you need to automate a single work cell or an entire plant, NWA Quality Information System delivers a complete quality system from plant floor data collection to final reporting. NWA QIS is the perfect choice to manage production, satisfy auditors, and meet customers' quality-reporting requirements. And, it can be brought online with limited staff time, budget, and IT resources.
NWA QIS provides timely analytics-based reports and alerts to give your staff the information they need to make the right decision at the right time. It delivers a best fit system that is scalable from a pilot to a plant-wide system. You can incrementally implement NWA QIS to best fit your timeline, project resources, and budget. It will easily share product, process, and quality information with other manufacturing systems such as MES, LIMS, ERP, and Historians.
NWA Quality Analyst
NWA Quality Analyst® is the SPC software at the heart of successful quality management, Six Sigma, or Continuous Process Improvement programs. It pro­vides the best combination of power, flexibility and ease of use on the market and substantially reduces training and IT overhead to produce better results at lower total cost.
NWA Quality Analyst combines complete analytics capabilities with interactive operation to turn your data into valuable information. It readily integrates with all your plant's manufacturing software to successfully take the role of the universal process analytics and improvement tool for the entire organization.
Valued by customers
Manufacturers face mounting pressures to reduce costs, achieve higher quality levels, and meet more stringent customer and regulatory requirements. They know that to be more competitive, they must extract more actionable value from the enormous quantity of manufacturing data they collect.
Each day, companies use NWA software to reduce operating costs and increase profits by:
• Increasing process efficiency and improving product quality;
• Understanding and improving process operations;
• Improving enterprise-wide communication and decision-making;
• Demonstrating compliance with customer and regulatory quality requirements.
By successfully meeting these needs, NWA has developed a loyal user base around the world. Numerous major global companies list NWA software as their worldwide standard for real-time data analytics. Today, more than 3,000 customers worldwide recognize Northwest Analytics as their valued technology partner for manufacturing intelligence.
Incomparable Customer Care and Product Support
NWA makes no distinction between its products and services – both are required to fully meet a customer's needs. Northwest Analytics' manufacturing intelligence solutions are backed by an equally impressive array of customer-centric services designed to maximize your software investment.
From pre-installation consulting through installation and ongoing training and product support, Northwest Analytics ensures a fast time-to-ROI as well as a low overall Total Cost of Ownership.
Confidence now. Confidence later.
The Northwest Analytics Software Assurance program provides a comprehensive package of services to meet both immediate and future customer needs.
NWA Software Assurance delivers ongoing software updates, level-one functional enhancements, customizable customer websites and world-class customer support – ensuring NWA software continues to perform in an ever-changing and increasingly-competitive business environment.
Supporting our customers every step of the way
Northwest Analytics is focused on your success. Our results-oriented customer support team quickly gets you up and running and keeps you productive. As a result, our customers are our biggest fans.
From troubleshooting software and systems challenges to addressing usage and functional questions, the NWA Support Team delivers platinum-level support for all NWA customers. 
Expanding and accelerating NWA software benefits
To help you get the most out of your software, the NWA Technical Services Team is ready to help guide you through anything from system design to capturing complex data streams. Services include:
• Needs Assessment
• User Interface Configuration
• Data Collection
NWA Technical Services have overseen hundreds of quality systems. With this perspective and experience, NWA Services can quickly and efficiently have your NWA solution implemented, deployed and returning value.
Training where, when and how you need it
Onsite or online. Broad scope or narrow focus. One-on-one or one-to-many. Whatever your needs, Northwest Analytics will craft a training program to maximize the uptake, usage, and value of your NWA software investment.
NWA trainers' real-world experience working with worldwide manufacturers ensures a world-class approach to unlocking the full potential of your NWA solution.
Delivering industry-specific solutions
Northwest Analytics understands each manufacturing segment has its own set of process challenges and analytics requirements. The winning intelligence solution not only meets those requirements, but also does so with an exact fit to established processes as implemented by each individual manufacturer.
Northwest Analytics' configurable solutions and industry expertise enable manufacturers to drive enterprise-wide process and quality improvement to meet industry-specific requirements and customer demands.
Industries and customers include:  
| | | | | |
| --- | --- | --- | --- | --- |
| ENERGY/CHEMICAL | FOOD/BEVERAGE | PHARMA/BIO-TECH | PACKAGING | MATERIALS |
| 3M | Cargill | AstraZeneca | Crown Cork & Seal | Abound Solar |
| Air Products | ConAgra | Banner PharmaCaps | Huhtamaki | Alcoa |
| Chevron | OSI Industries | Baxter | PrintPack | Georgia Pacific |
| Dow | Pepsi | Genentech | Ring Container | Kimberly Clark |
| Exxon-Mobil | Riviana | GlaxoSmithKline | Saint Gobain | Nanosolar |
| Henkel | Unilever | Pfizer |   |   |
| Shell |   |   |   |    |
Cover Image

Info Center Collateral Types
Collateral Type
Company Related