Food & Beverage Industry Solutions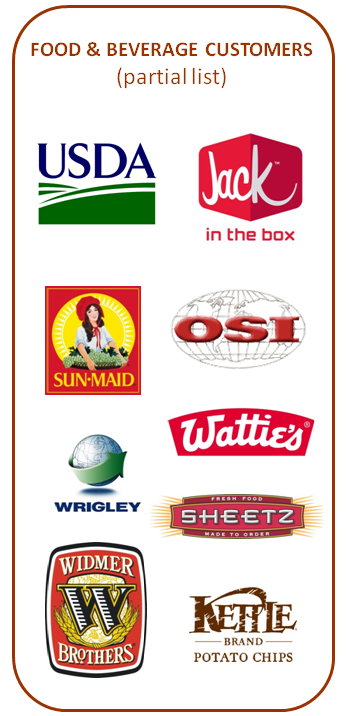 Food processors are routinely challenged to produce food to higher quality and safety standards. Whether prompted by customer supply chain requirements, regulatory agencies or compliance with third party audit schema, food processors need systems that will help them meet these needs with minimal overhead and maximum results.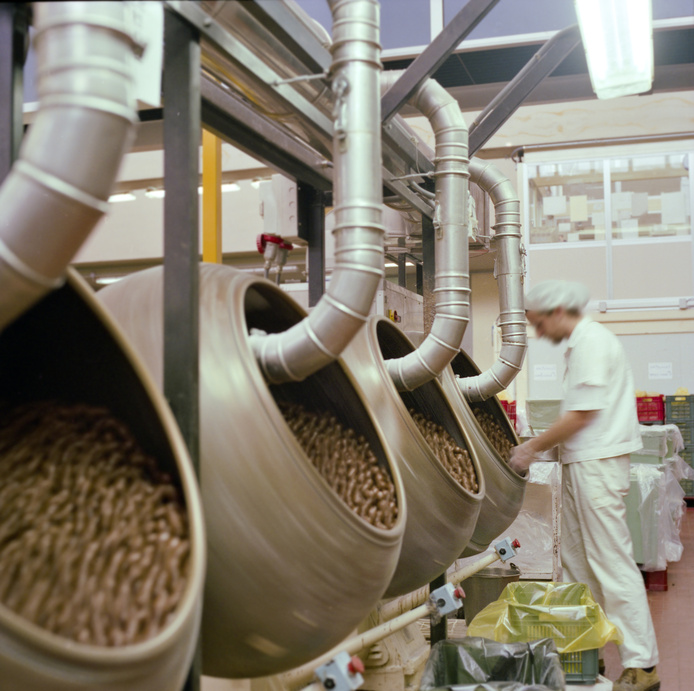 Dealing with these new challenges can be difficult and costly without Manufacturing Intelligence Solutions, Quality Improvement Programs and Manufacturing Analytics. For over twenty-five years, leading food manufacturers have utilized NWA solutions as core components of food quality and safety management systems.
From single-plant to multi-plant operations, Food and Beverage manufacturers need to integrate operational management with compliance so that they can increase operational profitability while reducing risks to quality and brand reputation. NWA's manufacturing intelligence and SPC software solutions enable them to:
Control processes with high cost or loss potential such as product variation, weight or fill control, packaging defects, and energy consumption;
Reduce labor costs from rework, manual data collection and reporting;
Change to predictive rather than reactive process management to provide the most effective process control and quality improvement program possible;
Actively manage their supply chain for improved quality and product delivery.
From multi-national firms such as Cargill and Unilever to specialty companies like Kettle Foods and Craft Brewers Alliance, NWA has provided the quality management and analytics software to support world-class process management and continuous improvement programs. NWA products enable successful compliance with regulatory standards such the Food Safety Modernization Act and commercial standards such as ISO22000 and GFSI. These require an effective systems infrastructure that handles data collection, management, analytics and visibility throughout the company and supply chain.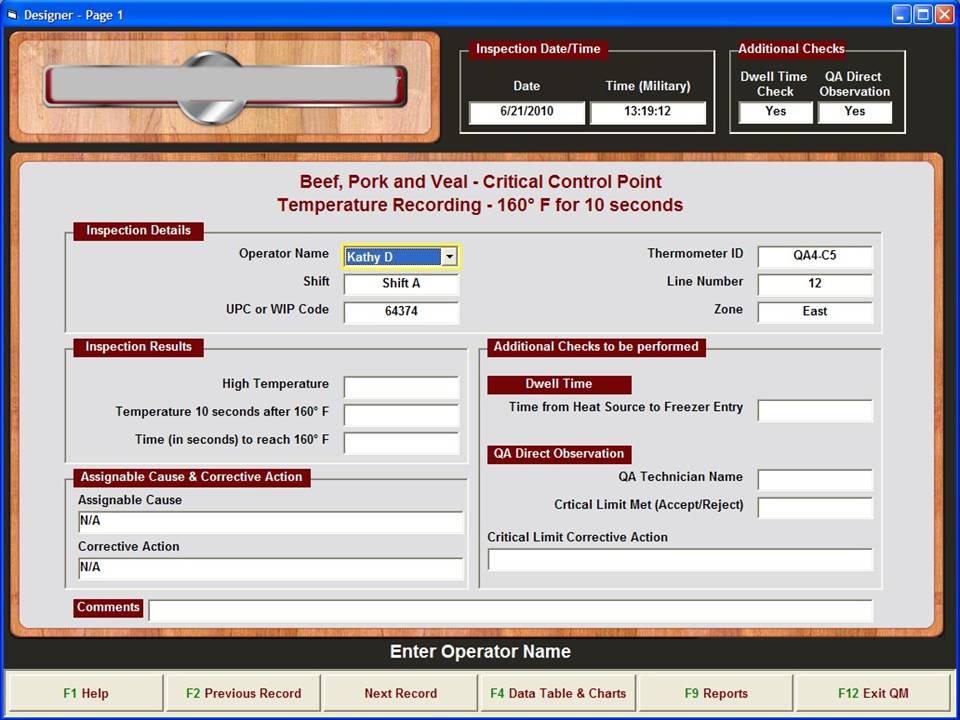 Northwest Analytics data-collection solutions enable our customers to reduce waste and rework while increasing yield by handling all aspects of conventional plant floor quality control such as fillweight and portion control. The rich, NWA operator interface supports SOP based data collection which is the foundation for effective quality, safety, and corporate management. This provides the source data for the Quality Information System (QIS) as well as the data for immediate compliance checks such as MAV on product fill or package integrity for food safety.
"For a long time we used a standard fill weight target. Now, with NWA allowing us to talk specifically in terms of data instead of in generalities, we've been able to optimize fill weights, generating savings while staying fully compliant."
Dave Bechtel, Director of Worldwide Quality, IAMS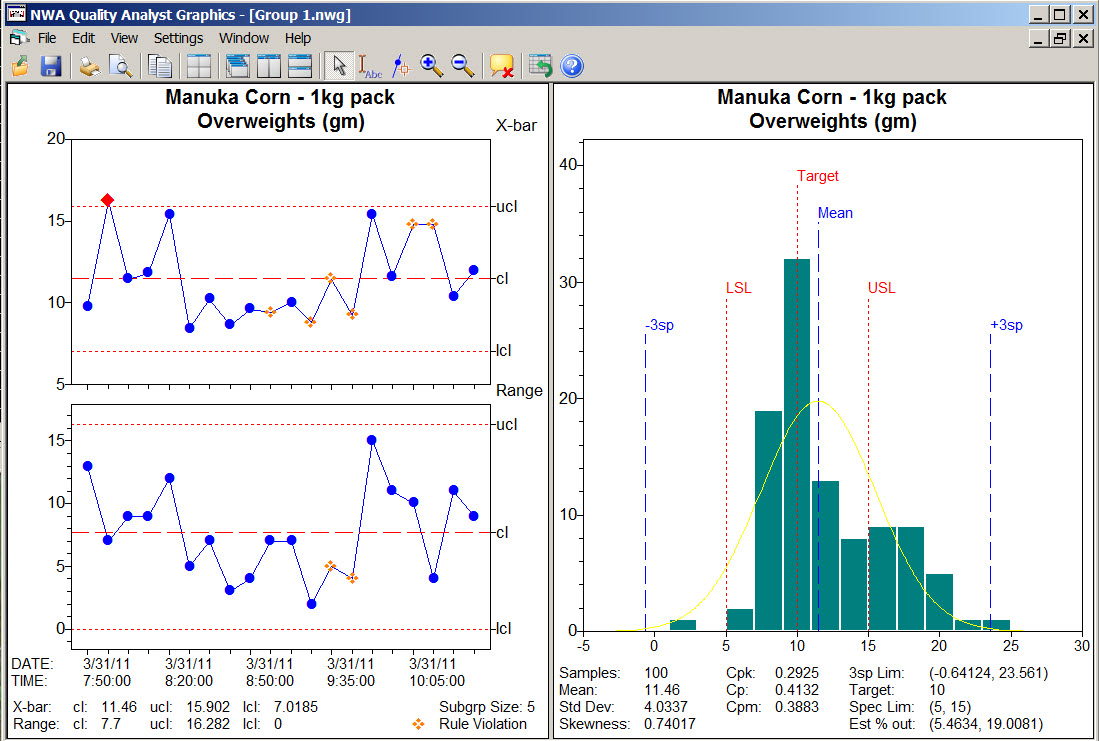 The Northwest Analytics Quality Information System (QIS) database organizes and manages the plant floor data. Not only can process monitoring and improvement programs use this data, but when linked with data aggregated from other production and business databases, it is available for corporate productivity and supply chain management.
By incorporating Manufacturing Intelligence and Analytics, process oversight reaches another level of power and sophistication. The properly configured system provides each stakeholder role-specific analytics and visualization - with context - and delivers effective manufacturing-decision support for all functions.
"The NWA Quality Information System has made it easier to get information about the process. Before, we depended on a spreadsheet, and it was hard to see trends. Now we have timely access to all our data and with the analytics we know exactly where we are and can take actions to make the best beer."
Mike Domenighini, Corporate QA Director, Craft Brewers Alliance
Manufacturing Intelligence Solutions from Northwest Analytics provide companywide process visibility for both plant and corporate management. These NWA solutions allow Management to be consistently aware of quality and safety status which substantially reduces commercial and regulatory risks. Additionally, cross-facility comparisons support corporate improvement projects such as benchmarking and determining best practices. The result is better plant utilization and resource availability delivering improved performance.
This also enables collaboration between suppliers and producer locations (company facilities or contract manufacturing) and supports successful vendor certification and supply-chain quality management. With the easy availability of data from the entire manufacturing cycle, supply-chain quality management can be extended to include raw materials quality management through finished goods analysis.
 "Our customers can review the SPC charts of our chemical analyses, or batch process samples, across several facilities, side-by-side, to validate that we are using the same processes and getting the same results everywhere. It shows them that we are doing our due diligence, and this has led to much shorter audits."
Panna Chaudhari, PhD, V.P. Scientific Affairs, Fortitech
Food safety and quality management has become increasingly systematized and defined by commercial standards and government regulations. This includes the Food Safety Modernization Act which governs both domestic US production and imported food and beverage products. The commercial standards include ISO22000 and the audit schema defined under the Global Food Safety Initiative (GFSI). These standards are vendor requirements in the major grocery and food service supply chains.
These regulations and standards are based on a compliant Food Safety Management System (FSMS) that incorporates HACCP and prerequisite programs. Northwest Analytics Manufacturing Intelligence Solutions are core components of a successful compliant food safety management system. In addition to providing the required data collection, management and analytics, NWA Solutions streamline the audit process while lowering costs and increasing effectiveness.
The following webcasts further examine how a quality information system and analytics support successful Food Safety Management Systems:
Dr. John Surak discusses how to apply process analytics such as SPC to sanitation data management to continuously monitor food safety management performance, improve compliance and reduce risk.
An overview of the GFSI audit schema and how quality information systems fit into the requirements.