Mounting pressure for product consistency and quality and a mandate to reduce costs spurred container manufacturer Crown Cork and Seal Co. Inc. (Philadelphia, PA) to institute quality measures that could be applied across the board throughout its manufacturing sites around the world. To fully appreciate the size and importance of this task, consider the company's business climate.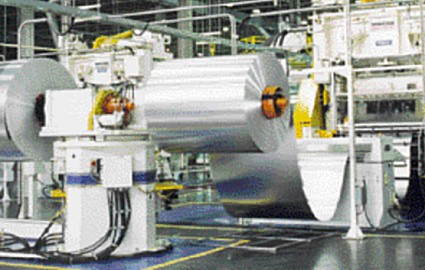 Crown Cork and Seal, one of the world's largest suppliers of beverage containers, is an $8 billion manufacturing company with operations in 247 plants in 49 countries serving global customers like Coca-Cola Co. (Atlanta, GA) and Anheuser-Busch Cos. Inc. (St. Louis, MO). Customers expect a beverage container purchased in Taipei to be the same as one purchased in Chicago, Geneva, or Toronto. The challenges and costs of producing identical products in plants around the world are staggering and daunting.
Add to this equation the fact that the container industry is competitive in terms of cost. As a high-volume, commodity-producing industry, profit margins are thin. Any increase in margin is important for the bottom line, and profitability depends on efficiency and waste reduction.
"Our industry also is competitive in terms of quality," says David MacBurnie, vice president of world-class performance/total quality. "There is constant pressure to do more with less [for example, to make cans with thinner materials without compromising quality]." He says customers' expectations continue to rise—they now require zero-defect products, low prices, and high quality. "This is challenging, because as you speed up equipment and reduce materials, you also increase process variability, which can lead to defects."
A related aspect of this quality requirement—producing consistent cans around the world—places enormous pressure on the company to reduce variation across many manufacturing facilities. This requires that quality must be addressed on a company-wide basis, according to MacBurnie. Some of the most important employees in this effort are the line operators, who must continually make decisions about keeping the process in control. This requires training, not only to overcome fear and resistance to change but also to teach statistical concepts that can be applied to line operations.
"Our strategy for meeting these challenges is to implement a company-wide quality standardization program, using the NWA Quality Analyst [for off-line statistical quality control] and NWA Quality Monitor [for on-line statistical process control] from Northwest Analytical." Crown Cork and Seal has started creating a worldwide, multinational user group to solve statistical process control (SPC) problems, based on Northwest Analytical Inc.'s (NWA, Portland, OR) two major software suites. This strategy can be applied up and down an entire supply chain. 
The container company is using Northwest Analytical's products to accomplish three goals, according to MacBurnie.
To reduce process variation.The Northwest Analytical software packages allow Crown to examine the process and distinguish between natural and assignable variation. Assignable variation means that the process is out of statistical control and needs to be fixed. Reducing that variation means that the company can produce containers with less waste and rework, which helps the bottom line. It also means that Crown can reliably meet customer specifications.
To determine whether the process is capable of meeting customer specifications.These specifications are set by customers and Crown Cork and Seal engineers. Neither group has complete knowledge of what the manufacturing lines can meet. So when new specs are required, Crown engineers use the software to determine whether those specs can be met with existing configurations, staff, and equipment, MacBurnie says.
To report to customers.Crown's customers demand proof that the company is meeting specs and employs a comprehensive SPC/SQC program. The software allows Crown to provide its customers with charts that clearly show how Crown is meeting specs and quality goals.
Standardizing on NWA's products throughout the Crown organization allows the company to meet several critical goals, the first of which is the achievement of economies of scale. "Standardizing on NWA software allows us to develop one quality training program that we can implement with all our plants," MacBurnie explains. "Our trainers can go from plant to plant without having to relearn or adapt the training program to fit different software. In addition, their ability to teach SPC is enhanced because they know NWA inside and out. It allows them to focus on helping people to use the software more effectively."
In addition, a shared language about SPC helps form a problem-solving user base among plants, MacBurnie says. As more people learn the software and apply it to Crown operations, these users can talk with each other about what they are doing. This internal network is helping people implement more changes at the plant level. Fellow users at other plants face similar problems, so their insights are more helpful than advice from corporate headquarters would be. "This is incredibly important when the plants are essentially making the same products and need to use their resources wisely," MacBurnie says.
"Standardizing on NWA software allows us to develop one quality training program that we can implement in all our plants." - David MacBurnie, Crown Cork and Seal
Given the same platform of quality programs, Crown employees can move from plant to plant without having to learn new procedures. Everything is the same: the software, the charts, and the specifications. Also, with this common language and procedures about SPC, corporate-level management can more easily compare results across all facilities.
In the area of cost control, not only does the NWA software reduce waste, but it also cuts costs by providing one SPC training program and materials used in all of the Crown facilities. "This program offers enormous potential in terms of cost savings," says Bob Truitt, executive vice president of operations for Crown Cork and Seal's North America Metals Division. "It allows Crown to create centralized quality expertise and enables us to reap benefits more quickly from our SPC program."
Reductions in the time required to produce line information on charts have also saved money. Before implementing the software, Crown engineers could slash the time it takes to produce setup evaluations for quality purposes whenever there was a changeover on a given line. "Prior to the charting techniques of the NWA software, the collection of data and charting manually would take up to eight hours before we could get a line in operation," explains Jim Arends, senior manager of SPC at Crown. "That time has been reduced drastically to around 30 minutes, and we do these evaluations fairly frequently in some plants."
Implementation of the NWA software throughout the Crown organization is an ongoing activity, Arends says. The software is operating in some plants—about 50 so far—throughout the U.S. and Canada, and installations are planned for Crown plants in South America, the Caribbean, and Mexico. Crown's European operations will also eventually share in the benefits of the NWA software.
QC Package Features Ease of Use
By implementing Northwest Analytical's NWA Quality Analyst and NWA Quality Monitor in a company-wide quality-standardization program, Crown Cork and Seal gains significant benefits, including ease of use, technical stringency, and software adaptability. Training the line operators is a big challenge for the company, but the software is easy to learn and use; it also makes the statistical calculations automatic. Operators can now learn to read a control chart, and they can know whether their process is out of control and whether they should adjust it or leave it alone. And they can do that without learning complex math.
By providing technical stringency, the software allows Crown to do all levels of analysis, from simple control charts to advanced statistics. Thus, the software meets the needs of the line operators as well as the manufacturing engineers and quality managers. The software is also very flexible and easy to customize to meet the company's needs.
by James F. Manji
Article from Managing Automation magazine, November 1999
© 1999 Managing Automation magazine. Published with permission.
Cover Image

Info Center Collateral Types