Northwest Analytics expands implementation and related services for NWA Focus EMI®
Portland, OR – (June 11, 2013) – Northwest Analytics, a global supplier of manufacturing intelligence solutions for process industries, today announced the expanded availability of delivery, implementation and related services from a leading system integrator, MAVERICK Technologies, for the newly-released next generation enterprise manufacturing solution, NWA Focus EMI®.
The partnership will allow Northwest Analytics and MAVERICK Technologies to offer increased levels of services related to NWA Focus EMI to existing customers of both companies. Those services also enable NWA's ability to easily scale its implementation and process-improvement services by utilizing MAVERICK's differentiated system-integration expertise, deep knowledge of manufacturing processes and operations, and experience working across multiple generations of plant technologies from multiple vendors.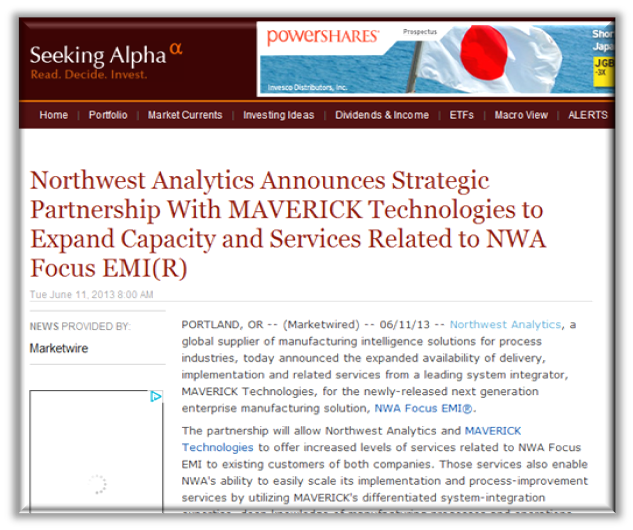 Northwest Analytics President Bob Ward said, "We needed to quickly expand NWA's implementation services capacity to meet the increasing demand for NWA Focus EMI. MAVERICK is a key partner for NWA, allowing us to deliver 1-3 week implementations and also offer our existing customers a wider range of related high-value services.
While introduced just last month, we are already seeing strong demand from manufacturers for NWA Focus EMI due to the solution's unique abilities to deliver complete data integration with a ubiquitous analytics layer for real-time process visibility to reduce costs, increase yields and improve product quality."
Paul Galeski, CEO of MAVERICK Technologies, noted, "The NWA relationship provides us with a world class partner to help us provide our clients with a complete world class solution that includes a comprehensive analytical, dash boarding and manufacturing intelligence solution. "
Launched last week, NWA Focus EMI provides complete data source integration, and real-time process analytics and visibility with capabilities that enable users to accumulate and disseminate knowledge across the entire enterprise, and collaborate across geographically dispersed manufacturing operations to pinpoint and quickly resolve issues and share best practices.  
"With NWA Focus EMI's ability to easily connect directly to all existing plant data sources, it is important to partner with an integrator whose experience working in complex data environments equals that of Northwest Analytics," stated NWA Marketing Vice President Peter Guilfoyle. "From Historians and quality systems to MES and LIMS, MAVERICK Technology's understanding of plant data technologies is a key differentiator for delivering NWA Focus EMI implementation services."
Senior Vice President of Operations Robert Gellings said, "This partnership with NWA will enable MAVERICK to offer clients even greater value through the application of cutting edge solutions in the area of manufacturing intelligence and analytics that further extends the ability of MAVERICK providing the right solution assembled to meet our clients' unique needs for manufacturing information."
The Dow Chemical Company and other leading manufacturing companies have already implemented NWA Focus EMI and are continuing the process of rolling it out across their enterprises. The NWA Focus EMI full system payback averages two to six months.
NWA Focus EMI is available immediately by contacting Northwest Analytics directly at focus-emi@nwasoft.com.
About Northwest Analytics
Northwest Analytics is a leading provider of manufacturing intelligence, SPC and quality information software solutions for manufacturers. NWA delivers manufacturing-intelligence visibility, analytics, plant-floor quality data collection, management and monitoring, SPC charting, enterprise reporting, and real-time, embedded SPC to 35% of the Forbes 1000 manufacturers and more than 5,000 manufacturing customers worldwide. NWA has focused exclusively on manufacturing for more than 25 years, providing a powerful, easy-to-use suite of EMI, MI and SPC solutions that emphasize enterprise-wide integration, analysis and visibility. NWA is the partner-of-choice when it comes to helping its customers increase operating efficiencies and throughput, while delivering a fast and effective ROI. For more information, visit www.nwasoft.com.
About MAVERICK Technologies
MAVERICK Technologies is the largest independent systems integrator in North America, and is a global leader in industrial automation, enterprise integration and strategic manufacturing solutions for clients across a wide range of manufacturing and process industries. Leveraging its unique enterprise-wide perspective, MAVERICK identifies suboptimal operations and improves performance for greater safety, efficiency and overall profitability. The company's people, processes and technical capabilities ensure delivery of the right solution for every project, using the most appropriate technology. Organizations around the world depend on MAVERICK's responsiveness, results-driven approach and dedication to their success. Over the years, MAVERICK has completed more than 10,000 projects in 45 countries across six continents. To learn more about MAVERICK, please visit mavtechglobal.com. To download the press kit, please visit mavtechglobal.com/press.
Northwest Analytics Contact:
Peter Guilfoyle
V.P. Marketing
pguilfoyle@nwasoft.com
503-224-7727 x 113
MAVERICK Technologies Contact:
John Clemons
John.clemons@mavtechglobal.com
205-807-2119
Editorial Contact:
Valerie Harding
Ripple Effect Communications
valerie@rippleeffectpr.com
617-536-8887
Undefined